New US made FAL Barrel. 21 inch, bipod cut, muzzle threaded left hand for Belgian combo devices, Stg flash hiders, Smith Vortex, etc. Excellent condition original gas block installed, barrel is NEW.
$225.00
Smith Enterprise Vortex Flash Eliminator
Now available, the highest rated flash eliminator is here at GunThings!
Click here to see the videos and news updates of this incredible flash hider in action:
Click for Smith Enterprises Vortex Flash Hider Video 1
Click for Smith Enterprises Vortex Flash Hider Video 2
Heat treated steel, parkerized, patented design. Compatible with SEI Direct Connect (DC) Sound Suppressor.
For FAL, HKG3/HK91, and AK $69 each, For AR-15, M4, M16 $49 each, for M14 $120.00 each. See M14 webpage for photo of that version.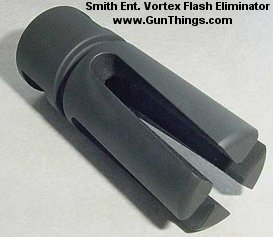 Gas piston, metric, original
$8.00
Gas piston, Stg-58, metric
$10.00
Gas Block, original Israeli heavy barrel gas block, new
$35.00
Gas plug plunger with spring and locking ring. This is not the whole gas plug, it is only the internals for the gas plug.
$12.00
Gas regulator spring
$4.00
Gas tube nut, screws into upper receiver, holds rear of gas tube and carry handle, new
$10.00
Our Israeli FNFAL webpage has Israeli furniture and parts, our L1A1 pages have L1A1 furniture and parts.
Handguards, synthetic, bipod cut, with screw, good condition
$35.00
Handguards, synthetic, bipod cut, with screw, used, cracked, or chips in plastic, per pair
$15.00
Handguard, left side only (cocking handle side), non - bipod cut, good - very good condition

***If you have some right sides to sell or trade, please call or email!!!
$30.00
Sight post, for FNFAL metric gas block. These are new original Belgian made posts and fit Imbels, South African, Austrian, FN, etc. Available in 4 heights. Height is identified by the number of dots on the sight. Tallest is 4 dots, shortest is no dot or one dot. Most guns use a 2 dot or 3 dot post.
$20.00
Sight post, fits Israeli and some Argentine models (does not fit standard metric gas block), new. Heights available are size -3, -2, -1, 0, 1, 2, 3, 4, 5, 6, 7 (7 is tallest). Specify size when ordering. Uses special spring for $3. No detent plate required.
$8.00
Sight post spring for metric FAL
$3.00
Sight post fixing plate/detent plate for metric FAL
$5.00
Sling swivel screw, for barrel/front swivel, new
$3.00